META offers know-how in the area of rPET recycling and flake IV restoration.
META is involved in several rPET recycling projects with industry leaders, such as the one represented on the diagram. This is a "Stand-Alone rPET Flake IV Restoration System with In-Line Hot-Blending", with primary focus on ENERGY conservation. This system was sized to raise flake IV from 0.72 to 0.80 with a residence time of 7 hours, for a throughput of 1000 lb/h.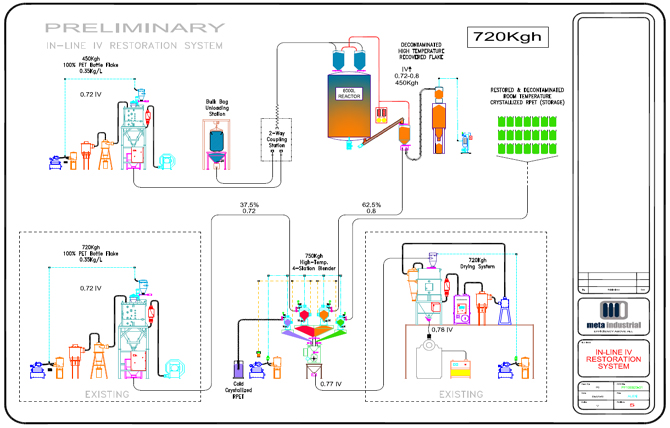 With the use of a high-temperature blender prior to drying the overall IV increase can reach above 0.05 (37.5% clean flake with IV 0.72 and 62.5% clean flake with IV 0.8). Our integration includes the complete decontamination and restoration module, equipment for IV increase, big-bag unloading and filling stations, crystallizer, high-temperature blender, interconnecting piping, and turn-key installation.